It takes a great deal of planning, behind-the-scenes work, and assistance of many to bring together all the details of a documentary film project. More people than I could possibly thank in this post were involved in helping me with my trip to Poland. So I want to start by thanking my donors, family (who held down the fort while I was away), friends (who read my blogs, Facebook posts, and Tweets daily, and wrote emails to check in on me), and everyone else (my apologies to anyone I've accidentally left out but whose support I greatly appreciate!) who made this trip possible.  In this blog post, I want to specifically highlight a few special individuals who helped make the trip a success.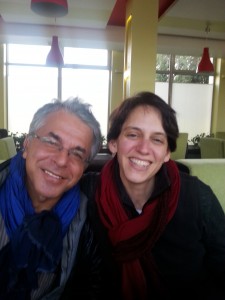 A really big thank you goes out to Sławomir Grünberg, cinematographer extraordinaire, for a solid two weeks of filming in Poland. Not only did Sławomir follow our busy schedule without a word of complaint, but he helped smooth out the whole experience for us. In Sławomir we found not only an inventive and patient cameraman, but an accomplished documentary filmmaker [A graduate of the Polish Film School in Lodz, he is an Emmy Award Winning documentary producer, director, and cameraman who has directed and produced over 40 television documentaries] who really understood the story we were trying to tell, and ultimately became a friend and champion of our vision. His native familiarity with Poland, and his understanding of my own American perspectives, helped to keep the project moving forward. His friendships with numerous people in every place we visited helped, as the saying goes, to open doors for us. His presence not only as a cameraman, but as part of the film production team, provided us with further credibility and ultimately meant we got amazing footage for the film. He was a trooper through long days, wet and blustery weather (our umbrella at Majdanek blew inside out and broke in half within the first half hour of our arrival), train delays (and running through the streets of Lublin, with luggage, to catch a train for which we were late), and accommodation confusion (we gave him the wrong address for his hotel in Krakow which mistakenly put him at a restaurant hosting a wedding at the outskirts of town). He kindly introduced us to his friends, provided on-the-fly translation, called taxis for us, offered insights on Polish history, provided first hand perspective on Polish-Jewish culture today, shared the story of discovering his own Jewish roots, and put up with my incessant dependence on social media, particularly tweeting. It was hard to say goodbye, and we promised to try to connect in Israel and New York City when Chasing Portraits moves forward with additional filming.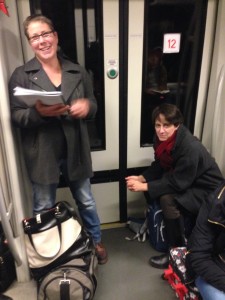 Catherine Greenblatt – It is not enough to say that Cathy is a good friend and an important part of the Chasing Portraits team. Cathy, whose background includes a Ph.D. in the History of Consciousness Program from the University of California at Santa Cruz, and experience as a consultant for art, film, cultural, and museum related projects, wears many hats on the Chasing Portraits film production team. In addition to assistance with background research,interview preparation, cross-checking historical information, and contacting leads, while in Poland she frequently worked as a second video camera operator, took a plethora of photographs (we amassed over 2,300 between the two of us), wrote blog posts, offered critical moral support and encouragement, and became an even closer and dearer friend through it all.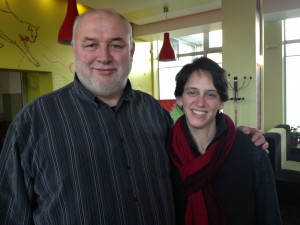 Dariusz Baran, a friend of Sławomir's who lives in Lublin, went above and beyond the call in helping our little film crew. Upon our arrival in Lublin, he picked us up at the train station and took us to our hotel. Then he guided us to dinner at a nearby Jewish themed restaurant where he and Sławomir caught up on a 30 year gap of time. The next day, after finishing filming at Majdanek, Dariusz drove us to Kazimierz Dolny, a town about an hour away. We treated him to dinner at the restaurant where we were staying and then he drove back to Lublin for the evening. After a full day of filming the following day in Kazimierz Dolny, Dariusz returned, picked us up, and took us back to Lublin where we had a lovely celebratory drink before catching our train (which we barely made!) back to Warsaw.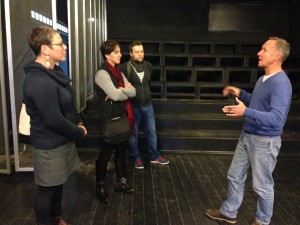 Witold (Witek) Dabroski  – Witek is one of the co-founding directors of Grodzka Gate Theater. When I told Louise Steinman, author and friend, that I was headed to Lublin, she insisted I connect with Witek. Not only were we warmly greeted at Grodzka Gate on a very cold and rainy day, Witek gave generously of his time sharing both the facility's history as well as talking about his organization's efforts to rescue Jewish memory. Our visit was blogged by Catherine Greenblatt in: Grodzka Gate – Lublin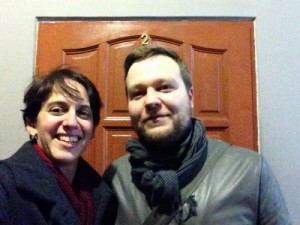 Piotr Nazaruk is a friend of the Chasing Portraits project. I met Piotr on a Facebook group for those interested in the topic of Jews from Lukow, Miedzyrzec Podlaski, Siedlce, Radzyn Podlaski, Biala Podlaka, Losice, Lomazy, and nearby towns. I joined the group to ask if someone might be able to help me find information about my great-great-grandparents (Moshe's parents) who I thought might be buried in Siedlce. Piotr couldn't find any information about their graves, but he discovered some interesting newspaper articles with information about my great-grandfather, and has continued to help with some of the mysteries the project encounters along the way. We had a delightful lunch with Piotr who then joined us on the tour of Grodzka Gate.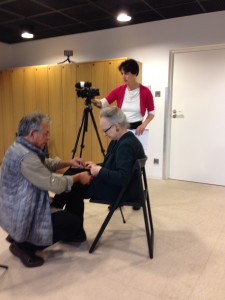 Barbara Kirshenblatt-Gimblett is the Program Director of the Core Exhibition for Polin: the Museum of the History of Polish Jews in Warsaw. She is also a scholar of Performance and Jewish Studies and is, perhaps best known for her interdisciplinary contributions to Jewish studies and to the theory and history of museums, tourism, and heritage. Under tremendous pressure with the arrival of the world at the museum's doorstep for its impending grand opening, Barbara graciously gave time to the Chasing Portraits project,sitting down for an interview to discuss my great-grandfather's art, Polish-Jewish art history, and how Polin differentiates itself from Jewish art museums and Holocaust history museums. Barbara has given the Chasing Portraits project support in a variety of ways including connecting me to several Polish-Jewish art historians, introducing me to other children of survivors on parallel searches to my own and, most critically for my recent trip to Poland, introducing me to Sławomir.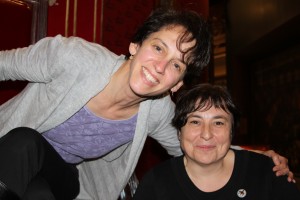 Renata Piątkowska once worked at ZIH (The Jewish Historical Institute) and now is at Polin: The Museum of the History of Polish Jews. She has known my great-grandfather's artwork held at ZIH for a long time and has been involved in showing it and researching his life for many years. I've been reading Renata's essays for a number of years, and it was a delight to meet her in person and to interview her for the documentary film!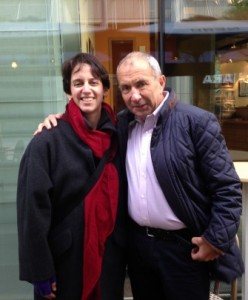 Alex Wertheim is the son of a couple who bought a bundle of my great-grandfather's paintings from a farmer after the Second World War. I wasn't sure if Alex and I would actually be able to connect while I was in Poland. He had family events to attend in Canada, and his departure from Warsaw was imminent. We did, however, manage to meet and had a lovely chat at a cafe near 24 Krucza Street, the address where my great-grandparents lived (and where Moshe painted) in the interwar years. Alex is a delightful and charismatic gentleman who very kindly drove the Chasing Portraits production team to our next location after our interview.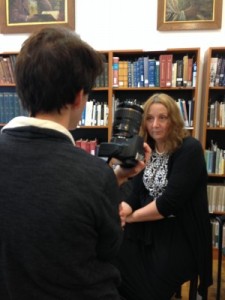 Teresa Śmiechowska is the head of the art department at ZIH (The Jewish Historical Institute). My arrival in Warsaw was not ideal in terms of Teresa's schedule. The Institute was officially closed for renovation, Teresa was on a tight timeline to get the new exhibit, SALVAGED, up on the walls, and she had her usual job responsibilities to attend to which meant her art department team needing answers to all sorts of questions. Despite her busy schedule, Teresa took the time to show me the Moshe Rynecki art in the Institute's collection, sat down for a filmed interview, and allowed us to re-enter the museum ahead of a private showing of the new exhibit to a group of American benefactors in order to see my great-grandfather's painting on the wall, and to film footage for the documentary.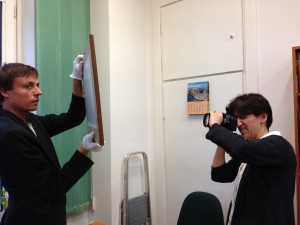 Jakub Bendkowski is part of the art curating team at ZIH (The Jewish Historical Institute). On the two days we visited ZIH to see my great-grandfather's paintings, as well as to conduct interviews, he was incredibly patient with me. He brought up my great-grandfather's artwork from the storage space, patiently showed me each piece, turning each one over so I could look for stamps, details, and clues of provenance history. In this photograph Jakub is humoring me by holding the painting vertical, instead of laying it flat on the table, in an effort to reduce glare from the overhead lights (great idea, but it didn't work!). I also owe Jakub an enormous thank you for graciously permitting me to interrupt his tour of SALVAGED several days later to a private tour group of American benefactors who asked me to speak about one of my great-grandfather's works displayed in the show.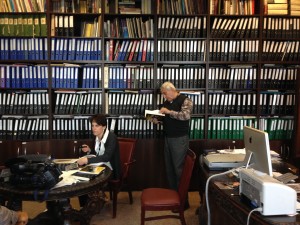 Janek Jagielski is a well known figure at ZIH (The Jewish Historical Institute). I came to Janek to see if he knew anything about the building where my great-grandparents once lived (and had their shop) at 24 Krucza Street. Although he didn't have a clear photograph of the building, he got me awfully close with a photo of 26 Krucza Street that showed a peek of the building next door. The view had architectural details that seemed to confirm that another photograph that I have is, in fact, 24 Krucza Street.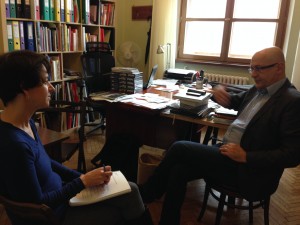 Piotr Rypson is Deputy Director for Research at the National Museum (MNW) in Warsaw and holds a PhD in literary studies from Warsaw University. Our interview focused on his expansive knowledge of Polish art history and the relationships between Jewish art history and Polish modern art.
I also want to say a thank you to those on the curatorial staff at MNW who prepared my great-grandfather's paintings for my visit, made it possible for me to view the newspaper clipping of a Rynecki painting held in their archives, and brought out the Dziennik Podawczy (daily log) that shows the name of the person who sold the two Moshe Rynecki paintings to the museum. We wrote about the name in our blog post: More Pieces of the Rynecki Puzzle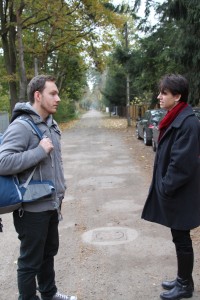 Mateusz Majewski (of Dune Translation Agency) was scheduled twice during my stay in Poland to provide translation services. Mateusz first showed up for an interview at Polin: The Museum of the History of Polish Jews, but it turned out my interviewee's English was so strong that a translator was not needed. Mateusz was, however, crucially needed at the interview of a private collector. Mateusz did a stellar job, and took the time to really familiarize himself with the background and details of my project. Mateusz is professional, friendly, very easy to work with, and gets an extra shout out for not only being a translator, but for driving (on a Saturday!) the film production team from Warsaw to our interview destination, which was outside Warsaw's city limits.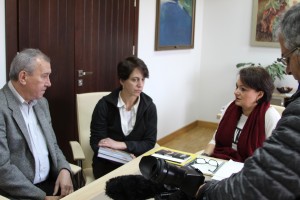 Agnieszka Zadura
and Dr. Waldemar Odorowski at Muzeum Nadwiślańskie w Kazimierzu Dolnym. Agnieszka, the current director of the museum, and Dr. Odorowski, the former director, sat down to speak with me about my great-grandfather's paintings done at Kazimierz Dolny, the art colony. Agnieszka not only offered insight about my great-grandfather's body of work, but translated for Dr. Odorowski, who is the author of the exhibition book, In Kazimierz the Vistual River spoke to them in Yiddish– : Jewish painters in the art colony of Kazimierz, which features several pages of information about my great-grandfather.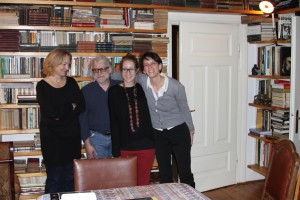 The Napiórkowski Family who opened the doors of their home, narrated their connection to the Rynecki art story, asked to learn more about my great-grandfather's art and my quest, shared their interest in Polish-Jewish art history, and greatly surprised me with a gift of the painting held in their collection (described in my blog post: The Return).

Yagna Yass-Alston who has translated documents, tracked down books and articles, and pointed me in the right direction multiple times, has been an online friend for over a year. Sadly, Yagna and I were unable to connect while I was Poland. We literally passed one another as my train took me from Warsaw to Krakow and hers brought her from Krakow to Warsaw.