Today the Chasing Portraits team packs up in the States and hits the road. We will spend a long weekend in Warsaw (we arrive Thursday night and leave Monday night) where we will film interviews and see original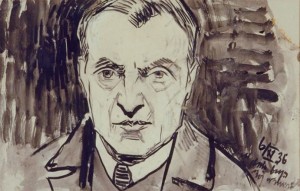 Moshe Rynecki paintings in a private collection. There's also a slim chance I may find a photograph of my great-grandfather in a photo album I've been promised I can look at this weekend. I'm keeping my fingers crossed. I've never seen a photograph of my great-grandfather. If I am to spot him in a photo, it will be based solely upon my knowledge of his self-portraits!
The schedule is a busy one (first Warsaw then Tel Aviv and Jerusalem), but I am confident that my fabulous team will help me do it all and do it all well! I am very much looking forward to working again with Slawomir Grunberg and Catherine Greenblatt.
Slawomir has his own busy schedule while we are in Warsaw. His new film, "Karski & The Lords of Humanity" has had great showings and press coverage in Poland. Poland's Foreign minister, Grzegorz Schetyna, has said of the film, "It is in our national interest, i do not hesitate to use these words, that this film reach as far as possible on the the international scale." I've seen an earlier version of the film, but am looking forward to seeing the final cut at Jewish Motifs, the International Film Festival this weekend.