Moshe Rynecki was born in 1881 in a small town East of Warsaw near the town of Siedlce. His father, Abraham [Avraham Zvi], was a tailor who specialized in making uniforms. Little is known about his mother, Zipora. [Zipora is the name Moshe's son, George, used for his mother in his memoir.  In November 2013 we learned of a painting held by The Jewish Historical Institute in Warsaw that Moshe painted when his mother died.  The Hebrew text on it reads: Frieda Rachel daughter of Ezekiel ARII. Died Saturday (of parashat) Kdoshim, 6 (day of month) Eiar, Year 5684 (1924), Siedlece. And she lived for 82 years. So perhaps Zipora was her nickname.]  Life was hard for the Ryneckis.  They had no running water and there were unsanitary conditions with a sewer ditch running along the road.  As for their religious beliefs and practices, it had previously been written here that the Ryneckis were Hasidic. Then it was changed to read Orthodox. What we know for sure is that Moshe's son, George, wrote a memoir in which he wrote about his grandfather's family, "All the Jews were zaddiks. They may have belonged to different zaddiks—rabbis. Religious, very observant, full of energy, everybody doing something. Close knit, wearing long black "capotas"—cassocks—and characteristic hats. Round, small with a close small rimless visor." While Abraham was a talented and successful tailor, he and his wife had married quite young (he was fourteen and she was twelve) and suffered the loss of thirteen children to various illnesses. Only five survived childhood: Moshe, and his siblings: Itzchak, Jakov, Chaya, and Jospah.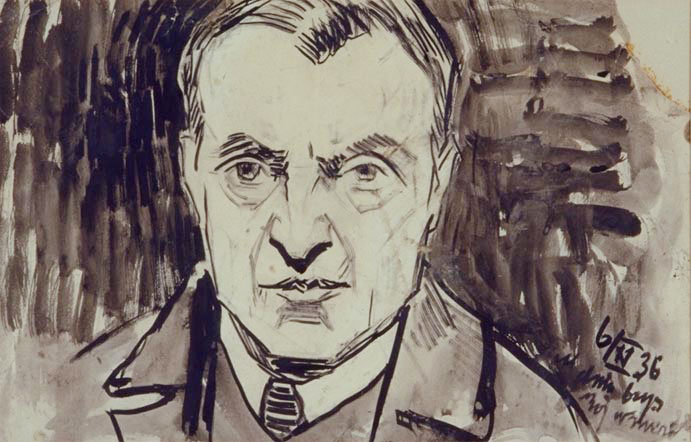 Rynecki began drawing at an early age. According to family lore, he used to use chalk, or sometimes paint when he had some, to draw figures on the floor and walls of his home. According to a memoir written by his son, George, "Not once was he actually beaten for breaking the commandment, 'Thou shalt not create images'." Moshe once explained his drive to paint to his son. He told him, "God gave me talent and I truly don't believe in breaking that natural trend. I simply have to do it. If He wouldn't want me to paint, I wouldn't have that tremendous urge and desire to immortalize on paper or canvas what I see. I simply am a writer of sorts—instead of words, I leave my messages in pictures. I don't feel to trespass the Bible's saying about images."
Although Rynecki probably would have preferred to go straight to an art school, he first had to complete his Jewish education at a yeshiva. He did this, and then went on to a Russian middle school, which was a prerequisite to acceptance at the Warsaw Academy of Art. According to a report published in 1907 about the History of the Warsaw Academy of Art (previously known as the School of Fine Arts in Warsaw) "Moszek Rynecki" attended the academy during the 1906/1907 school year.  Moshe would have been in his mid 20s during this time period. [Note: In October 2013 the Rynecki family learned of the existence of a single handwritten page Moshe wrote in Yiddish about his life.  It is a short biography that tells a bit more about his art education. You can see the letter, and read the translation and notes about the content of the letter in the blog post:  "In Moshe Rynecki's Own Words – A Bio"]
We aren't sure Moshe's age when he was married off to Perla (also sometimes referred to as Pearl or Paula) Mittelsbach, the daughter of a Warsaw family of some means. They married, and while Perla was left to oversee the household and to run a small store (that store was located on Krucza Street), Moshe painted. The store, which sold writing materials, books, and paintings supplies for artists, provided the family with an income. At about the same time the store opened, Perla gave birth to a daughter (Bronislawa). About a year and a half later she gave birth to a son, George.
After completing his formal education, Rynecki went on to paint that which he knew best—the Polish-Jewish community. In paintings such as The Chess Players and Woman Embroidering he captured people doing everyday activities, and in paintings such as Simhat Torah, Synagogue Interior, and In the Study, his works ca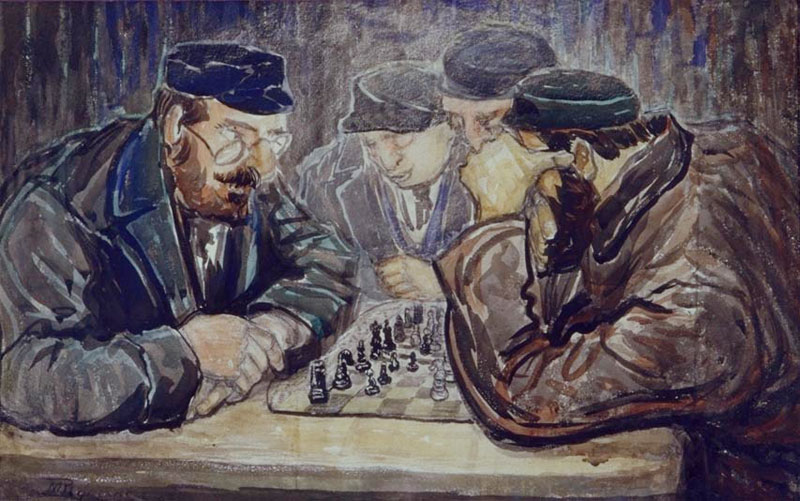 pture places, events, and issues central to the Jewish community. While some of his works were shown in local galleries and were met with good reviews, his son George claims, "he was not successful in selling any of his works."
At the outbreak of the Second World War, Moshe became concerned about preserving his life's work. In the early days of the war he made the decision to divide his oeuvre of approximately 800 works into a number of bundles, and to hide them in and around Warsaw. He gave a list of the locations where the works were hidden to his wife, son, and daughter, in hopes that after the war the family would retrieve the bundles and the collection would be whole once again. Moshe willingly went into the Warsaw Ghetto, desiring to "stay with his people," and perished in Majdanek. His daughter was murdered in the Warsaw Ghetto. His wife, his son George, George's wife Stella, and their young son Alex hid in a number of locations outside the Ghetto and, despite a number of very close calls, ultimately survived the war.
After the war Moshe's widow went to see if any of the bundles of paintings survived. She found just a single package in the cellar of a home in Warsaw's Praga district, across the river Vistula. Of the find, Moshe's son George wrote in his memoir, "The paintings seemed to have gone through the same fate as the Jewish people – massacred and destroyed. About 12–15 percent of Jews survived the Holocaust. So did my father's paintings. One hundred and twenty were found out of a count of close to eight hundred works."
For many years the Rynecki family believed that just this single bundle survived. Fortunately, that was not the case—many more pieces survived, and Moshe's great-granddaughter Elizabeth has found a substantial number of previously "lost" works over the last several years.  There are known to be fifty-four pieces in two museums in Warsaw – ZIH: The Jewish Historical Institute and The National Museum in Warsaw. There are also pieces in private hands in Toronto, New York, Los Angeles, Israel, and Poland.
The focus of this website is to share Moshe Rynecki's art – much of which is displayed on the gallery pages.  However, the 21st century story of the search for more pieces from the original collection is an active search and new information and pieces have been found.  To follow the contemporary story you can read more on "Elizabeth's Blog: A Great-Granddaughter's Legacy" on this website, or you can follow the project on Facebook and Twitter.