The story here is a long one with lots of strange twists and turns; serendipitous moments really. In a way it's a sort of "truth is stranger than fiction," story, but then again, the Chasing Portraits project is filled with such incredible moments. I promise to try to cut to the chase as fast as possible.
My quest to find all my great-grandfather's paintings always begins with the same story: My great-grandfather, Moshe Rynecki (1881-1943) painted scenes of the Polish-Jewish community in the interwar period. A Warsaw based artist, he was quite prolific, producing close to 800 paintings and sculptures before the Nazis invaded Poland in September 1939.
In the early days of the Second World War my great-grandfather became concerned about his art and decided to divide it into bundles and hide it in and around the city of Warsaw. Moshe perished in the Holocaust. After the war his widow, Perla, recovered a small percentage of the original body of work. The works were found in the basement of an apartment building in Praga (a Warsaw neighborhood across the Vistula river). Eventually Perla brought those paintings out of Poland, and took them to Italy (where her son George and his family lived after the war), and then Grandpa George brought them to the United States in 1949. To help abbreviate this long family story, suffice it to say that in the late 1950s Perla went to live with extended family in Le Mans, France (a city best known for its annual 24 hour automobile race). George kept in touch with his mother and the French family for many years, but then Perla died in 1971 and communication between the two families slowed. I was 2 years old when Perla died.
And then I fast forward the story quite a bit, first to 1992 when Grandpa George died and then to the early 2000's when Dad gave me a box of Grandpa George's files which contained letters, photographs, war documents, and other random tidbits. Several of the items had to do with Perla and the family in France. At first I didn't see any need to contact the family in France, they weren't people I knew, I barely understood how they were family, and I didn't speak French. But somewhere along the line it occurred to me that Perla probably took some of her husband's paintings with her when she went to live in France, and then finding them suddenly seemed quite important.
I tried rather haphazardly to find the family. I Googled them, searched for them on social media, and tried to see if they still lived at the old mailing address I found in Grandpa George's files. I even considered visiting Le Mans and making inquiries in person at city hall or perhaps the post office, but with a population close to 150,000, it seemed like my chances of randomly finding them slim to impossible. Besides, what if they had moved? But I never really gave up hope of finding them, I just needed to keep trying to find the right way into their lives.
Last month I was at an art law conference in New York to speak about Holocaust era looted art claims. While I was in the city I got together with Roz Jacobs and Laurie Weisman, friends (thanks to Barbara Kirshenblatt-Gimblett) who run The Memory Project. Roz is the daughter of two Holocaust survivors and is herself an accomplished painter. Laurie has a great deal of experience as an educator (she spent many years at Scholastic Inc. and Sesame Workshop).  The Memory Project is, in their words, "a unique multimedia exhibit shows a Holocaust survivor's riveting story of the brother she lost, coupled with images of her daughter painting portraits of that boy." An interactive exhibit, workshop, and film, they engage students in the history of the Holocaust while enabling them as "artists, storytellers and creators – to connect to their own family histories of memory, of loss and of the power of the creative process."
And now you're thinking…get to the point already… Okay, okay, I'll do my best.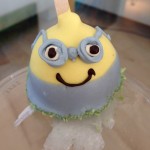 Over chips and salsa and a minion cake on a stick (a snack for my son!) we talked about Chasing Portraits.
"Are you done with filming?" Roz asked.
"Sort of," I said. "I'm still trying to close out a couple of loose ends, but at some point I'll just need to stop filming and start editing."
"Where else do you need to shoot?"
"Israel, Los Angeles, and France," I said.
"France?"
"Perla once lived with family in Le Mans. I think maybe she took some of my great-grandfather's paintings with her when she went to live with them. I'm curious if they still have any pieces."
"We know people in Le Mans. Maybe I can help you find them."
I laughed. What were the odds she knew my family in Le Mans? But you know what? Well, of course you know what, because that's why I'm telling the story.
Roz went to high school in New York with Margi. Margi has lived in France for about 40 years and she just so happens to be good friends with a woman who was a very young girl when Perla lived with her family.
And so what about any paintings Perla took to France? I'm so glad you asked…Yesterday, Christmas Day, I had what Roz and Laurie have dubbed, our own Jewish Christmas miracle.
An email arrived in the late afternoon with two photos. One was of the painting the family still has (they think there may have been others, but they're not sure what's happened to them). The other photo showed the entire family sitting, posing with the painting. I almost cried. It was such a heartfelt and lovely photo for them to send to me. The son wrote me," I am very pleased that a beautiful painting painted in the 1930s, is the link that connects our history around the world. I hope that it will enable us to meet." Indeed, I hope it will.
* * *
And now a sort of end-note to the story… As soon as I saw the photo of the painting in France, I knew I'd seen it before. My family has one that's very similar. Ours, dated 1934, is clearly a study Moshe painted before doing this other more completed piece held by my French family.