The Chasing Portraits documentary film team of Sławomir Grünberg, Cathy Greenblatt, and I, left Krakow Monday afternoon by train for Warsaw. A three hour ride, we did a little bit of everything including filming the views out the window (it was foggy!), working on blog posts, calling family, and resting up for the last big day of filming. We arrived back in Warsaw in the early evening and grabbed a taxi for Polin: The Museum of the History of the Polish Jews. We needed to pick up our press passes (mine said "Documentary Filmmaker" – !) for Wednesday's grand opening events.
When I first scheduled my trip to Poland, I planned to go in early October, but when I realized the grand opening of the new museum was scheduled for the end of the month, I rescheduled my visit so it would coincide with the museum's festivities. My goal for attending was both to see the photograph of my great-grandfather's painting, Wedding: The First Dance (1919), in the core exhibit and because, well, who wouldn't want to attend a big museum opening party?!
I actually got a look at Polin's core exhibit the week before the grand opening. The museum offered small, intimate tours to the press of the expansive 43,000 square foot exhibition space, and I jumped at the chance to take a peek inside the not-quite-yet-fully-installed exhibition. A group of about eight of us, including Sławomir, Cathy, and I, were guided by a volunteer who pointed out the highlights of each room, answered questions about Polish-Jewish history, and urged us to keep moving forward because, as she explained several times, we only had 2 hours and there was no way we could see everything. We tried to fully absorb a journey of 1000 years of Polish Jewish history (from the Middle Ages until present day), including legends about how Jews arrived in Poland, the beginnings of their settlement, how they were treated by local rulers, and what rights they did and did not have in each of those time periods in terms of religious, cultural, and economic freedoms. Even with a docent providing a narration of the vibrant visuals, artifacts laid out in classic museum cases, display labels painted on the walls, interactive computer installations, and models (the most impressive being the reconstruction of a wooden synagogue and its detailed art adorning the walls and ceilings), we were overwhelmed. Two hours was clearly not enough time to absorb all the voices, culture, and history presented.
We filmed as we moved through each of the eight core galleries, with the goal of finding the installation of the photograph of my great-grandfather's painting of a wedding scene amidst the stories of Jewish life. We actually missed it and later circled back to find it and realized why we'd not seen it: there was a label in the cabinet, but a bare spot on the wall where the exhibition installers were to place the piece. I never actually saw the photograph of the painting mounted into place, but I later found someone else's photograph of the installation, and am sharing it, and a higher quality image of the painting, here.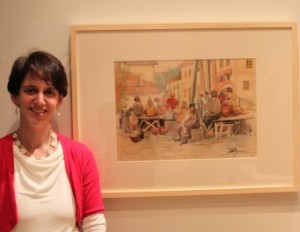 Wednesday morning, the day of the museum's opening, we had a full and busy agenda. First up was a trip back to ZIH (The Jewish Historical Institute) to see the newly opened exhibit, SALVAGED, and to take a look at the inclusion of a Moshe Rynecki piece in the show. The museum previewed the exhibit in a special event for a group of American donors. We were allowed in a bit early to film for Chasing Portraits, and then stayed to watch the greeting of the group. I actually knew a few people in the group and went to say hello and then added, "Look for my great-grandfather's piece. It's on the top floor in the back left corner." Another woman overheard me and couldn't really believe what I'd said. "What do you mean?" she asked. I quickly explained and then she said, "You must come upstairs and tell our group this story." I looked at my watch, it was almost 11 o'clock and I had to be at Polin in the press room by noon, or I wouldn't be allowed into the building. I hesitated, but only for a fraction of a second.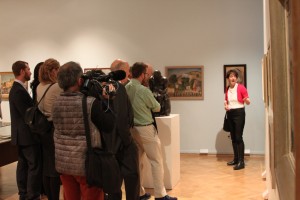 When you're making a documentary film, never pass up the opportunity to share your story. This kind woman escorted me upstairs, stopped the tour group in the gallery which was being lead by the lovely and quite knowledgeable ZIH art curator Jakub Bendkowski (I'd interviewed him several weeks earlier), and asked the group to come hear me speak. I've given my talk a number of times to a wide array of audiences over the last year or so, but this experience was so very different. There I was, standing in front of my great-grandfather's painting, explaining my documentary film project and offering a history about the painting. It made me crave, even more than I already do, an exhibition of my great-grandfather's works. The moment was both captured on film by Sławomir and by Cathy in stills.
And then it was onto the press room at Polin for ceremonies that started at 2 o'clock. When we arrived the room was abuzz with reporters. Journalists worked on laptops, read official Polin press materials, ate sandwiches (always feed the press I've been told!), talked on cellphones (I heard Polish, French, and English) and socialized with one another while we waited for our various press pools to be called so we could proceed outside. October in Warsaw is not exactly balmy, but we were bundled up.
The grand opening ceremony included several speeches, including words from Polish President Bronislaw Komorowski, Israeli President Reuven Rivlin, and perhaps most movingly, from Auschwitz survivor and chairman of the Council of the Jewish Historical Institute, Marian Turski  who intoned 'Mir Zenen Doh' – meaning "We are here!" throughout his speech to both recall the inner strength of Warsaw's ghetto uprising, and to celebrate the growing acceptance of being Jewish in Poland today. And with the official opening ceremonies over, the party began. First up was an indoor celebration for VIPs, museum benefactors, and the press. Later, an outdoor public concert and light show projected on the Museum façade featuring art by young Polish street artists. It was, to say the least, quite a way to end a two week stay in Poland.