I am not the only heir of a Jewish artist searching for lost art.  It's important that all stories of searches (and finds!) be more well known.  I thought I'd share the three people and artists with whom I am familiar.
Miriam Friedman Morris – Miriam's father, David Friedmann (later changed to Friedman) was an Austrian painter and graphics artist who lived in Berlin from 1911 until the end of 1938, when he fled the Nazis to Prague.  I was lucky enough to meet Miriam in New York in June 2013 at the German Consulate General and to see the work of her father which was on display in the "Painting to Survive – The Work of David Friedman" exhibit.  You can also view a video of the opening reception of the David Friedman Exhibition.  In addition to collecting her father's lost and scattered works, she also has generously donated them to many different institutions. You can read about one of those donations made to Yad Vashem in 2011.  For further information about Miriam's search for her father's work, you can read the paper she delivered at the EU's Looted Art Holocaust Era Assets Conference in 2009, "Artist David Friedmann: A Daughter's Search for Lost and Stolen Art."
The photo at the upper left was taken when I met Miriam at the NYC German Consulate exhibit. The artwork photos were provided by Miriam.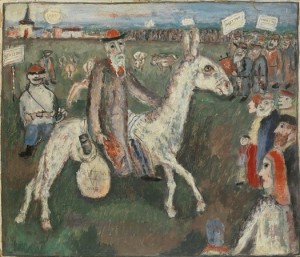 Nathan Diament is another man searching for lost art.  He is searching for the work of his mother's uncle, J.D. Kirszenbaum.  I have never met Nathan, but I have exchanged emails with him and have read his book, J.D. Kirszenbaum (1900-1954): The Lost Generation.  It's a fabulous book.  The essays (written in English and French) are really very interesting and the art is beautiful.  The book is very well done and really is what one might call a "coffee book" table.  There was an exhibition of his work in February 2013 in Israel at the Museum of Art, Ein Harod and the online description includes images of some of the art.  This image was taken from that Museum of Art, Ein Harod website. [note: 5/1/2014…. The art of J.D. Kirszenbaum is also now online on its own website: http://www.kirszenbaum.com/]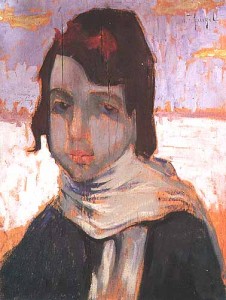 I most recently connected with Laurence  Spigel (with a hat tip to Louise Steinman for the introduction) who has a website featuring the works of his uncle, Natan Spigel, who was a painter in Lodz, Poland, in the interwar years, and perished in Treblinka.  The Spigel family's goal, much like mine is, "committed to promoting his work and artistic heritage and helping to ensure that those of his works which were not destroyed are made available to a wider public through exhibition in public collections."  You can read a bit about Spigel's work as it is cited in Steinman's book, The Crooked Mirror.  You can also visit the Natan Spigel: Jewish Painter website and see many other lovely examples of his work and read more about his life.  This image was taken from the Natan Spigel: Jewish Painter website.