CHASING PORTRAITS: A Family's Quest for their Lost Art Heritage
Narrative Synopsis
Moshe Rynecki (1881–1943) painted the Jewish community in Warsaw, Poland in the 1920s and 1930s. He documented religious scenes, such as men studying the Talmud, images from everyday life, such as women doing household chores, and ultimately scenes from inside the Warsaw Ghetto. In 1939, when the Nazis invaded Poland, Moshe realized his life's work was at great risk of being destroyed. In an effort to protect and preserve it, he bundled his collection of over 800 paintings into a number of packages and distributed them to gentile friends in and around Warsaw. He told his family where the paintings were hidden so that after the war the family could collect the bundles and make the collection whole once again. Moshe perished in a Nazi concentration camp. When his surviving family went to retrieve the paintings, they were only able to find a single bundle. Today the Rynecki family has just over 100 of the original 800-plus paintings; the rest of the collection is scattered or lost. Some paintings are at the Jewish Historical Institute in Warsaw, while other paintings are in private collections in Canada, Israel, New York, and Los Angeles. It is unclear in what way many of these private institutions or individuals obtained these paintings. Chasing Portraits: A Family's Quest for their Lost Art Heritage, is a 9-minute trailer previewing what is hoped to someday become a full length documentary film.
Goals and Activities of the Project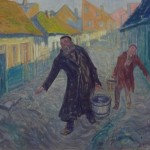 While Moshe Rynecki has primarily been spoken of as a Holocaust victim, the Rynecki family strives to broaden the public's understanding of who he was by emphasizing his contributions to the Jewish cultural community. His paintings aren't merely relics from the Holocaust or of Polish Jewry; his art addresses issues of Jewish identity, religion, and community. We believe that the combination of the paintings themselves, the books, the website, the documentary film, and film shorts we intend to include on our website, will promote and prompt discussions across such topics as religion, culture, history, Jewish studies, what it means to be a Jewish artist, the Holocaust, war, looting, and issues of provenance. We foresee these conversations taking place in the Jewish community, in classrooms, in academia, and in the art world, where the relationship between war and cultural artifacts continues to be a thorny and difficult topic.
Support the Project
Fiscal Sponsorship for Chasing Portraits is provided by The National Center for Jewish Film at Brandeis University. To make a donation to support the production of the documentary film, make your check payable to The National Center for Jewish Film, with "Chasing Portraits" written in the memo line, and send to:
The National Center for Jewish Film
Brandeis University
Lown 102
MS053
Waltham, MA  02454
Donations are tax deductible. Gifts over $250 will receive a letter for tax purposes.
As a fiscal sponsor, The National Center for Jewish Film serves as a non-profit tax-exempt umbrella organization that accepts and administers contributions made to select film projects. Fiscal sponsorship allows filmmakers to solicit and receive tax deductible donations from individuals and gifts from foundations without having to create a 501(c)3 non-profit corporation.