June 1951
Now on exhibition at the Jewish Community Center is an outstanding collection of paintings which have a tragic and inspiring story behind them.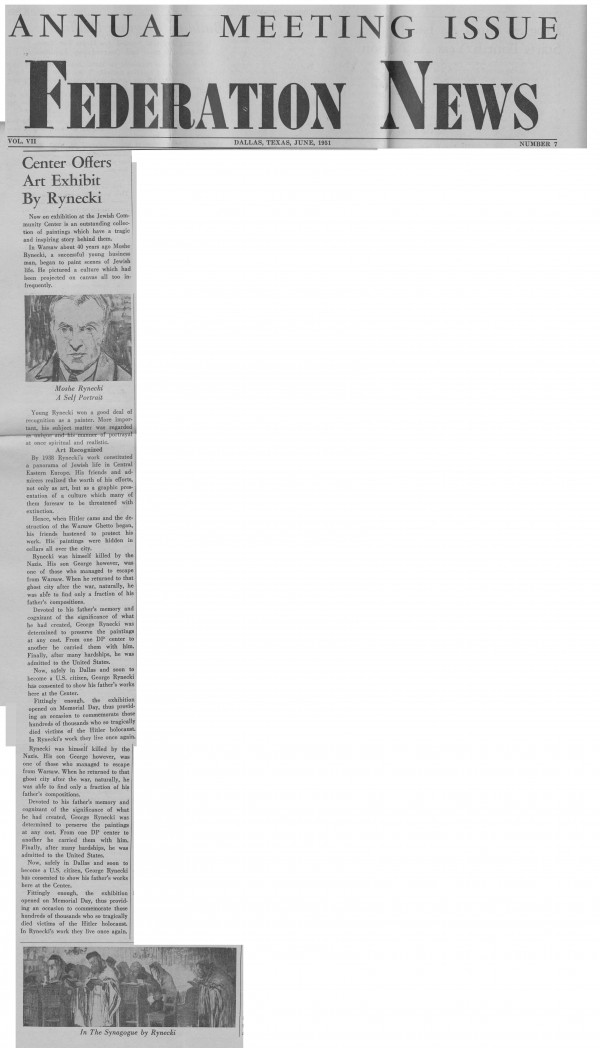 In Warsaw about 40 years ago Moshe Rynecki, a successful young business man, began to paint scenes of Jewish life. He pictured a culture which had been projected on canvas all too infrequently.
Young Rynecki won a good deal of recognition as a painter. More important, his subject matter was regarded as unique and his manner of portrayal at once spiritual and realistic.
Art Recognized
By 1938 Rynecki's work constituted a panorama of Jewish life in Central Eastern Europe. his friends and admirers realized the worth of his efforts, not only as art, but as a graphic presentation of aculture which many of them foresaw to be threatened with extinction.
hence, when Hitler came and the destruction of the Warsaw Ghetto began, his friends hastened to protect his work. His paintings were hidden in cellars all over the city.
Rynecki was himself killed by the Nazis. His son George however, was one of those who managed to escape from Warsaw. When he returned to the ghost city after the war, naturally, he was able to find only a fraction of his father's compositions.
Devoted to his father's memory and cognizant of the significance of what he had created, George Rynecki was determined to preserve the paintings at any cost. From one DP center to another he carried them with him. Finally, after many hardships, he was admitted to the United States.
Now, safely in Dallas and soon to become a U.S. citizen, George Rynecki has consented to show his father's works here at the Center.
Fittingly enough, the exhibition opened on memorial Day, thus providing an occasion to commemorate those hundred of thousands who so tragically died victims of the Hitler holocaust. In Rynecki's work they live once again.