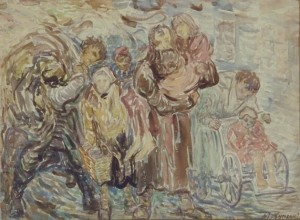 100 Works from the Yad Vashem Collection will be on exhibition at the Deutsches Historisches Museum (German Historical Museum) in Berlin from 26 January to 3 April 2016. The exhibition includes one Moshe Rynecki painting, Refugees (1939). The Rynecki family gifted this piece to Yad Vashem.
 About the exhibition, the museum's website states, "The exhibition represents the culmination of events marking 50 years since the establishment of German-Israeli diplomatic relations. This is "hitherto the largest presentation of artworks from the Yad Vashem collection outside Israel, and should be cherished as an invaluable symbol of friendship. Located in Jerusalem, Yad Vashem is Israel's official Holocaust memorial centre, whose museum is dedicated to presenting the history of the Shoah and its academic documentation."
Although I have been kindly invited to the opening, I will be unable to attend. If you see the piece while it is in Berlin, I'd love to hear about it!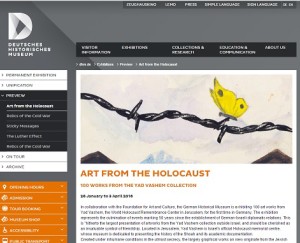 26 March 2016 update…
NBC Nightly news ran a story this evening about the exhibition. The story focuses on the work of Nelly Toll and while it does show close ups of some of the art, my great-grandfather's painting can only be seen ever-so-briefly at the 1:15 mark. Watch the whole video
here
. Here's a screen shot with a superimposed blue arrow pointing out the Rynecki painting.