Art that survived the Holocaust
By Donna Horowitz (of the IJ staff)
Friday November 27, 1981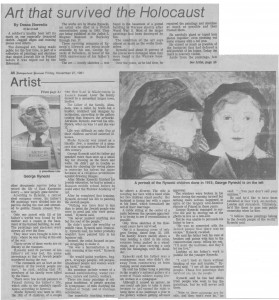 A soldier's muddy boot left its mark on one especially treasured sketch. Jagged edges and missing pieces scar others.
The damaged art, being made public for the first time, is part of a collection of paintings and sketches that depict Jewish life in Poland before it was wiped out by the Holocaust.
The works are by Moshe Rynecki, an artist who died in a Polish concentration camp in 1943. They are being exhibited at the Judah L. Magnes Museum in Berkeley through Jan. 17.
These surviving remnants of Rynecki's lifework are being made available by his son, George Rynecki of Belvedere, in honor of the 100th anniversary of his father's birth.
The art – mostly sketches – was found in the basement of a gutted building in Warsaw shortly after World War II. Most of the larger paintings had been destroyed by fire.
The condition of the art says almost as much as the works themselves.
Rynecki said about 30 percent of the pieces were damaged when they were found in the Warsaw basement.
Over the years, as he had time, he repaired the paintings and sketches as much as possible and then framed them.
He carefully glued or taped torn pieces together, even pressing out some creases with a hot iron.
He erased as much as possible of the bootprint that had defaced a self portrait of his father. Today the mark is scarcely visible.
Aside from the paintings, few other documents survive today to record the life of East European Jewry – now largely gone forever.
According to Rynecki, a retired steel company owner, his father's 800 paintings were divided into six parcels during the war and entrusted to gentile friends around Warsaw.
Only one parcel with 125 of his father's works was found by his mother and a cousin in the basement of the burned building, he said. The paintings and sketches were strewn all over the floor.
They later were brought to him in Italy, where he was living at the end of the war.
Thirty-seven of these works are on display at the museum.
Rynecki said 85 percent of his father's art was lost, the same percentage as that of Jewish people murdered during the war.
"The remnants are as hurt as the remnants of the Jewish people are hurt," he said adding that 131 members of his family were killed by the Nazis.
There were few Jewish painters in Poland during his father's life, which adds to the exhibit's significance, according to Rynecki.
Moshe Rynecki was born in 1881, the 13th of 18 children, of a couple who then lived in Miedzyrzecze in Eastern Poland. Later the family moved to a somewhat larger town, Siedlce.
The father of the family, Abraham, was a tailor by trade but a builder, architect and designer by inclination, according to the gallery catalog that features the artworks. Abraham Rynecki married his wife, Zipora, when he was 14 and she was 12.
Life was difficult as only five of their children survived assorted illnesses.
Moshe Rynecki was raised as a Hasidic Jew, a member of a pious sect that originated in Poland in the 18th century.
George Rynecki said his father got spanked more than once as a small boy for drawing on the floors and walls. He didn't get in trouble so much for choosing the wrong places to exercise his talent but more because of a religious prohibition against drawing images.
After Moshe Rynecki finished his Jewish education, he had to attend a Russian middle school before he could enter the Warsaw Academy of Art.
After he completed that training, Rynecki devoted his life to painting the Jewish people.
"Nothing was more dear to him than to paint the Jewish people who were in need and who were persecuted," Rynecki said.
"He never painted anything else but the soul of the people."
He didn't paint the wealthy or middle class, Rynecki said. Ironically, Rynecki said, his father probably wouldn't have painted him in his business suit.
Instead, the artist focused on people struggling to make it.
He was a humanitarian in the very meaning of the word," Rynecki said.
"He would paint workers, beggars, drayage people, old people, abandoned people and women working hard."
His paintings include scenes of a woman embroidering, water carriers, tailors and factory workers.
There are many paintings of religious traditions; of people praying in synagogues; of men studying the Talmud or Torah; and of marriage ceremonies.
One especially touching watercolor shows a divorce. The wife is covering her face with a hand while her two children stand nearby. Her husband is facing her with a paper in his hand, which formalized the end of their marriage.
A rabbi sitting at the center of a table between the spouses apparently is trying to see if reconciliation is possible.
Only three sketches of the Holocaust have survived.
One is a haunting scene of refugees fleeing, dated Sept. 25, 1939. The hastily dawn sketch shows a man holding a child in in his arms, someone being pushed in a wheelchair, and a man carrying a sack with his belongings over his shoulder.
Rynecki said his father was a courageous man who didn't shy away from controversy or from making social statements.
He said his father hung a painting in the country's national gallery of a scene of Polish soldiers raping Jewish women in a synagogue.
Although it caused an uproar, no one could ask him to take it down because he had earned the right to hang three of his paintings a year in the gallery without getting advance approval.
The windows were broken in his home during the ensuing turmoil but nothing more serious happened in spite of the largely anti-Semitic climate of Poland in those years.
George Rynecki managed to survive the war by moving out of the ghetto to live as a non-Jew, but he was unable to persuade his father to leave.
"He was so connected with the Jewish people that there was no escape," Rynecki recalled.
He said his father took his case of brushes and paints with him to the concentration camp, telling his son, "I'll paint the Germans, and they'll let me live."
Looking at his father's work is painful for the younger Rynecki.
"I can't look at them without thinking of war and murder," Rynecki said. "I see all the murdered people. these few paintings that survived are like the people."
Rynecki said he has had offers from people who want to buy the paintings, but he will never sell them.
"None of these paintings are for sale, and they won't ever be," he said.  "…You just don't sell your children."
He said he'd like to have them exhibited in New York, Amsterdam, London and Jerusalem.  Ultimately, he'd like them to pass into public ownership when he dies.
"I believe these paintings belong to the Jewish people of the world," Rynecki said.