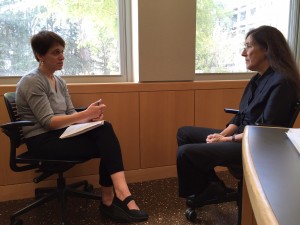 Today I had the distinct pleasure of interviewing Carla Shapreau for the Chasing Portraits documentary film. Carla has spent a significant number of years researching Holocaust era music related losses and she's very articulate about provenance research, legal questions at hand, and understanding what heirs face when addressing these difficult issues.
Carla's brief bio is that she is a Lecturer at the University of California, Berkeley, School of Law, where she teaches art and cultural property law. She is also a Senior Fellow in the Institute of European Studies where she is conducting research regarding music-related losses during the Nazi era and their 21st century ramifications. You can read more about Carla on both the Institute of European Studies website and Berkeley's Boalt Law School Faculty pages.
And be sure to check out this fabulous and interesting article, A Violin Once Owned by Goebbels Keeps Its Secrets, a 2012 New York Times article Carla authored.