I found an article (perhaps an excerpt from a book?) online, written in Polish, that includes information about my great-grandfather in a footnote. I asked Yagna Alston, a friend who is a PhD Candidate in the Institute of Jewish Studies at Jagiellonian University in Poland, for some translation assistance.  I'm including an image of the one page here as well as a link to the online source (see page 14).  The article/chapter is about the Polish artist, Gela Seksztajin (1907-1942).  This excerpt is about exhibits featuring her work and who else showed at the same time.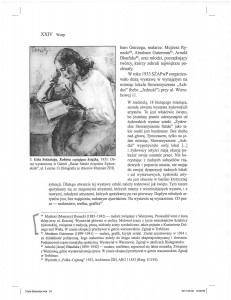 There are a number of interesting and exciting things about this paragraph.  For me, it's particularly thrilling to know that a woman artist had her worked featured right alongside her male counterparts. The second is the comment that the exhibit was reviewed so favorably. The third is that my great-grandfather's name is deemed important enough to list and that the phrase, "renowned artists" is used to describe those showing at the exhibition.
Please note that although footnote two says my great-grandfather was born in 1885 and perished in Treblinka in 1942, my family has slightly different information. You can read about his date of birth on a blog post I wrote. As for his date of death, my grandpa George's memoir says the family received a postcard in 1943 from Majdanek, and that the assumption is that he perished there.
The Translation:
In the next year she participated in the Winter Salon (Salon Zimowy), organized by ŻTKSP (Żydowskie Towarzystwo Krzewienia Sztuk Pięknych/Jewish Society of Encouragement of Fine Arts/Yidisher Gezelshaft zu Fershpraynt Kunst) in the same place[1]. The exhibit received favorable criticism, it was considered interesting and of the highest standing. Gela was found in the company of 44 renowned artists; besides those mentioned above there were, among others, the following: a sculptor; Abraham Ostrzega, painters; Mojżesz Rynecki[2], Abraham Guterman[3], Arnold Blaufuks[4], and other young, beginning artists, all of whom received the most applause.
---